When:
Back to Calendar July 13, 2017 – July 17, 2017 (all-day)
✔ Add to Calendar Add to Google Calendar
Categories:
Festivals
Boston's largest Performing Arts Festival July 13th-17th
Watch 115 performances (music, dance, theater, family, and cultural) at Outside the Box in Boston Common. Free.
Outside the Box Free Performing Arts Festival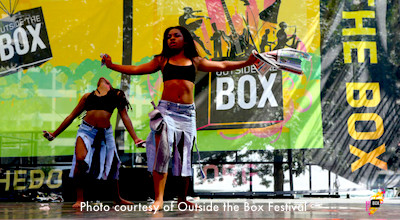 When:  July 12-16, with performances starting at 5pm on opening night and from 12 noon – 8pm on other days (schedule to be confirmed for 2017)
Where:   Boston Common
Cost:  Free (thanks to Outside the Box founder, philanthropist Ted Cutler)
Getting there:  Take the "T" – Red & Green Line/Park Station (more about Boston's subway)
More information: otbboston.com
Talented artists and organizations from New England and beyond take part in this amazing 5-day performance arts festival.  Boston Common gets transformed into a huge performance stage for the musicians, dancers, actors, and other performers who provide non-stop entertainment during the Outside the Box Festival.  Hands-on activities for kids of all ages will also be available.
Bring a blanket, food (vendors will also be nearby), sunscreen, and water